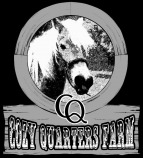 Leasing

Our leasing program allows you the ability to ride any horse listed below two days a week for $200 a month. You must be an advanced rider and able to tack your own horse without assistance. Our lease includes all tack needed and a helmet.
---
Sunshine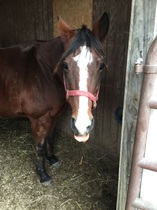 This Beauty is Sunshine. She is a 13 year old Quarter horse Mare, who stands at 14.2 hands. She is very sweet and gentle with children and adults. She is excellent in the ring and on trail rides. She is sound and doesn't spook. She is very nice and will take you where you want to go. She is well loved on the farm and is great with other horses.
---
McGinley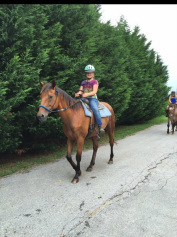 This 21 year old OTTB has been off the track for 18 years now. But he is a gem in the ring and on trail rides. He will go slow if you want him to go slow or fast if you want him to go fast. We've put people who have never ridden a horse before on him and it has never been an issue. He stands 16.3 hands.
---
---
Thunder

Meet Thunder! He is a 16 year old Haflinger. He is a handsome, fun, sound mount. He is comfy as a couch which makes him great for bareback riding! He is often ridden around cars, fire trucks, and large crowds. He is a bit on the stubborn side, but that is what we love about him! Haflingers are in the draft horse family which means they are strong and sure footed. They are commonly used to pull carts or wagons and are often seen on Amish farms working the fields.

---
Apache'

This is Apache'! He is a beautiful Appaloosa standing at 15.3 hands. He is very hard working and will take you where ever you need to go. He has a great trot and his transition into a canter is very smooth. He will do great in either Western or English. He is ridden often on trail rides and used in many beginner lessons. He is sure to succeed in any task asked of him although he has not been trained to jump.

---
Corduroy

Say Hello to Corduroy! He is a 14 year old palomino Welsh Pony. He is very loving and a good listener. Even though he is short, he is an excellent jumper. He will do great in both Western and English. He has a great trot and very smooth transition into a canter. He is often used for children's lessons and pony parties because of how calm he is. He is great on trails and even better in the ring!

---
Lightning

How cute is Lightning! He is an American Quarter Horse standing at 15.1 hands. He is one of the sweetest, calmest, and bravest horses you will ever meet! He is the best trail horse you could possibly ask for. He will take you anywhere you want to go. He will go up and down any hill, through mud, and even in water! He also has a flat, round, and comfortable back which will make bareback riding a joy! We can put any rider of any age on him and not have any worries at all! Lightning is 12 years young!

---
---